Route 804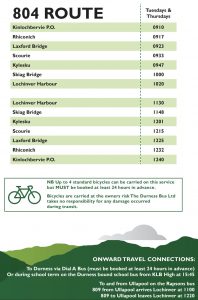 804 Kinlochbervie to Lochinver
Every Tuesday and Thursday from the start of May to the end of October.
The 804 service was facing an uncertain future this year due to Highland Council financial restraints and was axed, but the good people of the Passenger and School Transport Team have worked tirelessly to find the funding for the 804 service this year and we are delighted to announce that it will commence on Tuesday 2nd of May and run right through the summer running every Tuesday and Thursday linking the communities of Kinlochbervie, Scourie, Kylesku and Lochinver with onwards travel to Durness or Ullapool.
TIMETABLE
Onward travel to Durness is available via the school bus during term time at 15:45 at Kinlochbervie High School or by prior arrangement with Dial A Bus during the school holidays.  Onward travel to Ullapool with Rapsons 809 service.
Hailing the Bus – All rural routes require you to hail the vehicle as it approaches you. You do this by standing on the kurb or verge, facing the bus and putting your arm and hand straight out and holding it there till the driver sees you, indicates and brings the vehicle to a stop. Even where there are marked bus stops you should still hail the bus.
Click on the timetable to enlarge
Dial a Bus is available Monday to Friday 0900 to 1730. This service covers the area bordered by Keodale, Balnakeil and Laid and will extend to Kinlochbervie to meet the 804 from Lochinver. Bookings must be made the day before travel. Visit Dial a Bus page.